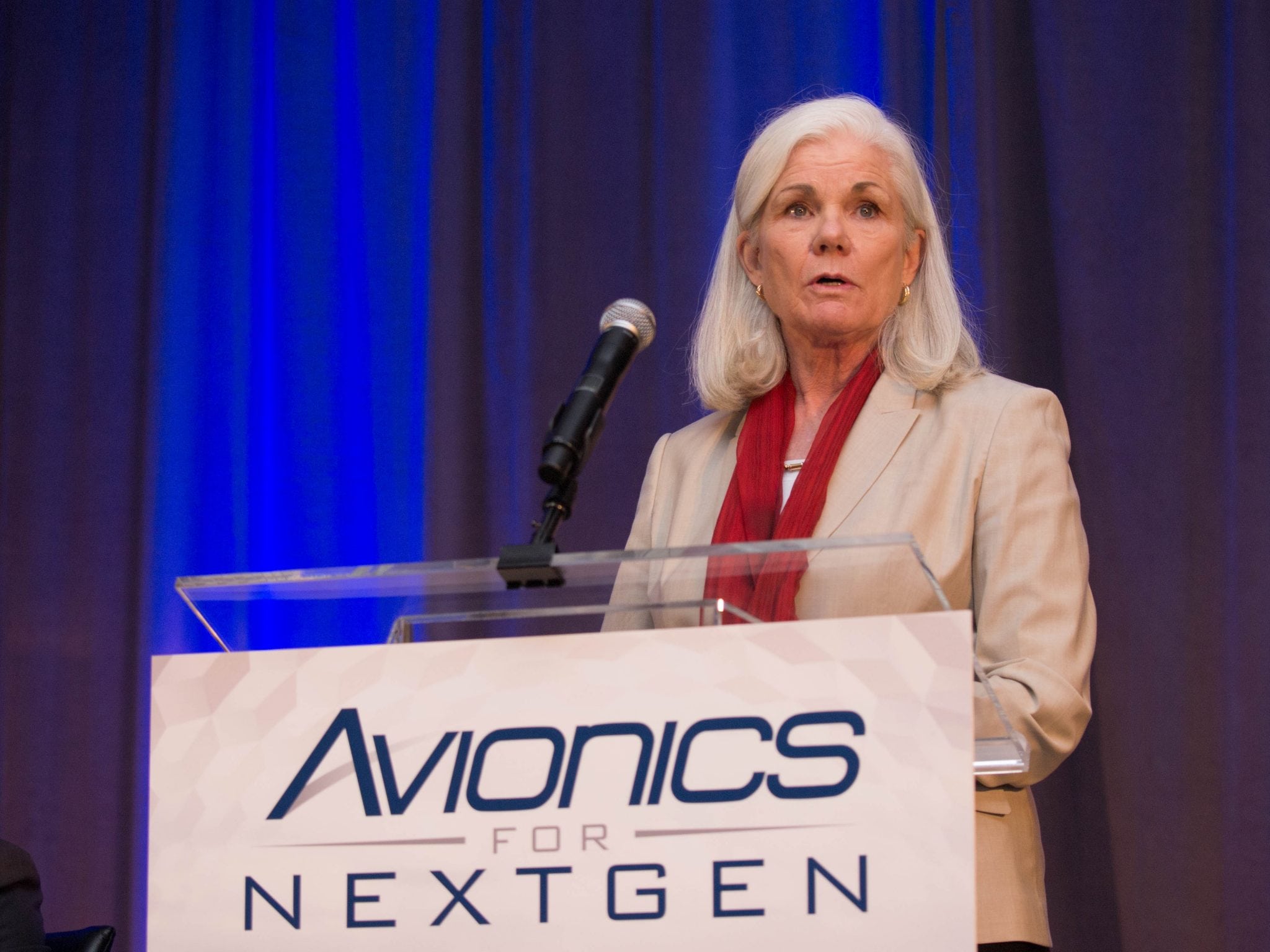 Mary McMillan, Vice President Aviation Safety and Operational Services, Inmarsat, speaks to upcoming flight tracking requirements during the Avionics for NextGen conference on Sept. 28. Photo: Avionics Magazine/Vince Lim
[Avionics Today 09-30-2016] The disappearances of Malaysia Airlines flight MH370 in 2014 and the 2009 Air France 447 have triggered new global aviation industry standards around tracking flights. With the need for more robust aircraft tracking highlighted by even more recent aircraft disappearances such as Egyptair flight MS804, the International Civil Aviation Organization (ICAO) finalized Suggested and Recommended Practices (SARPs) around commercial flight tracking late last year. The recommendations, known as the Global Aeronautical Distress Safety System (GADSS), are calling for 15-minute position reporting in normal flying conditions and one-minute position reporting for aircraft that are "under distress."
With requirements for normal aircraft mode position reporting scheduled to go into effect in 2018, and a distressed-mode position reporting compliance date set for 2021, civil aviation regulatory organizations across the globe are taking actions to establish their own versions of the rules and industry is responding by highlighting existing technologies that meet the requirements and performing research and development on new solutions. During a panel surrounding flight tracking at the 2016 Avionics for NextGen conference in Chantilly, Virginia, experts from Aireon, Inmarsat, Thompson Aerospace and Harris spoke to the evolving recommendations for flight tracking and how current solutions, which often rely on satellite backbone, can allow airlines to comply.
Satellite-based Solutions
In November 2015 the International Telecommunication Union (ITU) adopted a resolution to allocate radiofrequency spectrum for global flight tracking in civil aviation. The frequency band 1087.7 to 1092.3 MHz was allocated to the aeronautical "Earth-to-space," Mobile Satellite Service (MSS) for satellite reception of Automatic Dependent Surveillance-Broadcast (ADS-B) emissions from aircraft transmitters, according to the ITU. This most heavily impacted Aireon, a company working on enabling a satellite-based air traffic surveillance solution that will become operational in 2018. Aireon is leveraging the new Iridium Next 66-satellite, Low Earth Orbit (LEO) constellation that is said to be able to deliver real-time aircraft information to Air Traffic Controllers (ATC) without requiring aircraft to change or update any existing avionics.
Just this week, the company announced a partnership with flight tracking data company FlightAware that will combine data from Aireon's space-based ADS-B network and FlightAware's flight tracking web interface and data — including origin, destination, flight plan route, position and estimated time of arrival. Qatar Airways has already signed on to be the launch customer for this option.
"Aireon will be putting a specialized 1090 MHz payload receiver on the new infrastructure," said Vincent Capezutto, chief technology officer and vice president of engineering at Aireon during the panel. "It satisfies components of GADSS, although it depends on what the automatic distress requirements will turn out to be for each airline. But it will enable one-minute reporting all the time, so airlines won't even have to worry about changing it to a different update interval for distress reporting."
He also notes that FlightAware also has a set of parameters that an operator can set to indicate a distress situation, which could enable airlines to comply with that distress reporting aspect.
"The requirements are ever-evolving, they are not solidified and I think it's important to point out that you could have a system or systems that are more tailor-able to the needs of an airline as the requirements evolve," he said.
But Aireon isn't the only satellite-based solution set to enter the market. FlightRadar24 in partnership with Airbus Defense and Space and Gom Space is also experimenting with nanosatellites to collect ADS-B data from flights transiting the Atlantic Ocean outside their terrestrial coverage area and integrating that data into their network to create a commercial flight-tracking service. Having successfully tested the solution in July, the companies are moving forward to help eliminate flight tracking gaps globally.
Moreover, Thompson Aerospace also developed a solution that is reliant on Iridium satellites and uses a cell phone-like device via a satellite radio to comply with GADSS recommendations. "This gathers all the data all the time and if any data is out of tolerance, we send an alert," Thompson Aerospace CEO Mark Thompson said during the Avionics for NextGen aircraft tracking panel. The system only uses three watts of power and can also send messages using the Aircraft Communications Addressing and Reporting System (ACARS) network.
But as the systems themselves evolve, it is likely going to be difficult for airlines to continue to build on tracking capabilities while staying in line with requirements that call for global, low-power solutions.
"The Iridium satcom solution, because the satellite is a lower power and worldwide solution, it meets [current] requirements. Future requirements are going to create a larger problem, with systems such as the virtual cockpit voice recorder, flight data recorder, even flight deck camera systems they want in real time, they aren't going to be served by the low power version of iridium and that will require an L-band connection or a Ka- or Ku-band. Iridium is also coming out with Iridium Next, which may have enough bandwidth," noted said Thompson
With more bandwidth comes more power, however, which will likely overstep current requirements. This means that solutions that seem to be good for the first step are probably not the solutions that are going to be viable in the long term.
"There's going to be a tradeoff, so maybe hybrid solutions will be best. You have a small, simple box for basic communications and then a high bandwidth solution that would allow you to service some of the higher end needs," Thompson proposed.
Ground-based Solutions
Several ground-based solutions that pull from data and systems already on the aircraft are also becoming available to operators. SITAONAIR released it's OnAir FlightTracker tech to the American market in August 2015.
The system combines multiple data sources from the aircraft, such as ACARS datalink, Automatic Dependent Surveillance-Broadcast (ADS-B), and the Automatic Dependent Surveillance-Contract (ADS-C) application of the Future Air Navigation System (FANS) that airlines use for oceanic ATC communications. OnAir FlightTracker is also capable of transmitting air traffic control radar data, terrestrial and satellite feeds, and an airline's flight plans in order to provide real-time aircraft position monitoring over remote and oceanic regions.
"By adding ADS-B, ADS-C, FANS, ACARS position reporting and with air traffic control, the system gives you a much clearer, precise picture of where the aircraft actually is. That helps you not only with the location of the aircraft and the ability to know where it is at any time, but it also helps an operator to manage flight paths for efficiencies and weather avoidance," " SITA OnAir Commercial Director for the Americas, Larry Thomas, told Avionics Magazine in a previous interview.
Rockwell Collins' ARINC MultiLink flight tracking service is similar to SITA in that it brings together multiple data sources to reliably report the location of an aircraft anywhere in the world. Currently nine undisclosed airlines from around the world have launched a trial program.