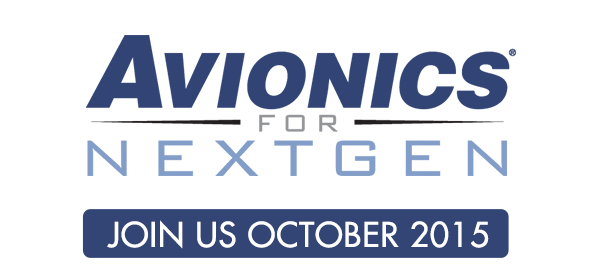 Now that the FAA is completing the foundational aspects of NextGen, the agency is working with the aviation industry to deploy more immediate benefits and capabilities produced by Air Traffic Management modernization for commercial and charter airlines and the flying public.
Avionics for NextGen 2015 will bring together key industry stakeholders, including airlines, pilots, air traffic controllers and avionics manufacturers, to discuss their experiences, challenges and solutions with the implementation of these new technologies.
Increase your presence at Avionics for NextGen through a sponsorship! These sponsorship opportunities will help you stand out from the crowd and place your brand in front of each attendee before, during and after Avionics for NextGen 2013.
Interested in sponsoring for Avionics for NextGen? Contact Susan Joyce at +1-303-221-2530 or Adriana Lora at +1-301-354-1783 for more information.
Sponsoring Companies at Avionics for NextGen
Bronze Sponsor:
Exelis
12930 Worldgate Drive
Suite 400
Herndon, VA 20170
www.ExelisInc.com
Exelis is a diversified, top-tier global aerospace, defense, information and technical services company that leverages a 50-year legacy of deep customer knowledge and technical expertise to deliver affordable, mission-critical solutions for global customers. We are a leader in communications, sensing and surveillance, critical networks, electronic warfare, navigation, air traffic solutions and information systems with growing positions in C4ISR, composite aerostructures, logistics and technical services. Headquartered in McLean, Va., the company employs about 19,900 people and generated 2012 sales of $5.5 billion. For more information, visit our website at www.exelisinc.com or connect with us on Facebook, Twitter and YouTube.

Luncheon Sponsor:
NextGen GA Fund
1250 24th Street NW
Suite 300
Washington, DC 20037
www.Nexacapital.com

The NextGen GA Fund, LLC will accelerate NextGen benefits for the General Aviation community's more than 220,000 aircraft. The NextGen GA Fund will provide low cost funding for NextGen installations, using FAA-stipulated equipage families, WAAS-capable GPS, ADS-B (In and Out), RNAV/RNP avionics, Datacomm, SWIM, displays and instrument panels, antennas, other enabling electronic components, installation, and certification.
Bag Sponsor:
Innovative Solutions & Support
720 Pennsylvania Drive
Exxon, PA 19341
www.innovative-ss.com
Innovative Solutions & Support is the world's leading supplier of RVSM systems and integrator of Cockpit Information Systems (Cockpit/IP®) for the Commercial Air Transport, Military, and Business Aviation Markets. IS&S incorporates leading edge technologies into sophisticated, cost-effective solutions for the aerospace industry.
Badge and Lanyard Sponsor:
ARINC
2551 Riva Road
Annapolis, MD 21401
ARINC Incorporated, a portfolio company of The Carlyle Group, provides communications, engineering and integration solutions for commercial and government customers worldwide. Headquartered in Annapolis, Maryland with regional headquarters in London and Singapore, ARINC is ISO 9001:2008 and AS9100:2009 Rev C certified.
Exhibiting Companies at Avionics for NextGen
Aeroflex
14408 W 105th St.
Lenexa, KS 66215
Aeroflex is a global leader in the provision of avionics test solutions for the repair, maintenance and overhaul of commercial, private and military airborne electronic systems. Our equipment provides the necessary stimulus and signals for certification, verification, fault finding and diagnosis of airborne systems on the ground.
Aeroflex is also a manufacturer of automatic test equipment (ATE) used in the testing of airborne electronics. The IRIS 2000 and Aeroflex RF Expansion Module for the Cassidian ATEC® Series 6 are the only general purpose ATE systems that support the testing of RF Line Replaceable Units (LRU).
Av-DEC
1810 Mony Street
Ft. Worth, TX 76102
www.Avdec.com
Av-DEC is a technical design and manufacturing company based in Fort Worth, Texas serving customers worldwide. Founded by engineers, Av-DEC is focused on corrosion prevention in the aerospace industry.
Av-DEC has products that are currently in use solving a wide variety of corrosion problems with Non-Hazardous Polyurethane based products on commercial and military aircraft. Our products are accepted and approved by major OEM's, major Airlines, Regional Airlines, BizJets, General Aviation, Helicopter operators and various branches of the Military (US and foreign).
Specific areas of focus for corrosion prevention:
Aircraft to Antenna Mating Surfaces
Aircraft Structural Areas
Wire Harness & Interconnects

Cobham SATCOM
509 Viking Drive
Suites K, L & M
Virginia Beach, VA 23452
www.cobham.com
Cobham SATCOM develops, manufactures, sells and supports affordable, highly reliable high performance satellite communication systems. With the ever-increasing demand for communication, our products and services are used to satisfy the needs of a wide variety of commercial, governmental and recreational applications under the most challenging and demanding conditions.

International Communications Group
230 Pickett's Line
Newport News , VA 23603
www.ICG.aero
International Communications Group, Inc. (ICG) of Newport News, Va. is a recognized leader within the aerospace industry, in the development and manufacture of aeronautical communications systems and solutions for the General Aviation, Air Transport and military industries. ICG's products provide satellite-based global voice and data telecommunications services for both cabin requirements and flight deck operations. Implementation of ICG avionics provides a comprehensive communications solution that can be customized for any size airframe or application. Products include: CTU systems, corded and cordless handsets, single- and multi-channel Iridium systems and data management devices. ICG, a major Iridium value-added manufacturer (VAM) and value-added reseller (VAR), has developed a wide range of Iridium-based solutions and products for mobile satellite communications applications. ICG is an approved FAA manufacturing facility and operates an FAA and EASA approved repair station.
North Star Group
801 Pennsylvania Ave. NW,
Suite 700A
Washington, DC 20009
www.NorthStarGroupLLC.com
North Star Group, LLC is a Washington D.C.-based, U.S. Veterans Affairs Administration certified veteran-owned small business professional services firm that assists commercial, non-profit and U.S. government clients in meeting their mission while reducing expenses. North Star Group accomplishes this by advising clients in the areas of project management, cybersecurity, systems engineering, acquisition management, financial management, enterprise architecture, training, aviation sciences and outreach communications. NSG has unsurpassed experience with the U.S. Department of Transportation, Federal Aviation Administration, U.S. Congress, telecommunications and key intelligence and homeland security agencies. NSG maintains a DCAA compliant cost accounting system and is ISO9001-2008 compliant.
Association Partners at Avionics for NextGen
Aerospace Industries Association:
1000 Wilson Boulevard
Suite 1700
Arlington, VA 22209
www.aia-aerospace.org
Aircraft Electronics Association
3570 NE Ralph Powell Road
Lee's Summit, MO 64064
The Aircraft Electronics Association represents 1,300 member companies, including government-certified international repair stations specializing in maintenance, repair and installation of avionics and electronic systems in general aviation aircraft. The membership includes manufacturers of avionics equipment; instrument repair facilities; instrument, airframe and test equipment manufacturers; major distributors; engineers; and educational institutions.
Airlines for America
1301 Pennsylvania Ave. NW
Suite 1100
Washington, DC 20004
www.Airlines.org
Airlines for America (A4A) vigorously advocates for the American airline industry as a model of safety, customer service and environmental responsibility; and as the indispensable network that drives our nation's economy and global competitiveness. Today, A4A members and their affiliates transport more than 90 percent of all U.S. airline passenger and cargo traffic. A4A also advocates for a National Airline Policy that would enable a strong, healthy and globally competitive U.S. airline industry. A key pillar of the National Airline Policy is the need for a modernized air traffic control system that would make air travel more efficient, dependable and convenient. Learn more at www.nationalairlinepolicy.com.