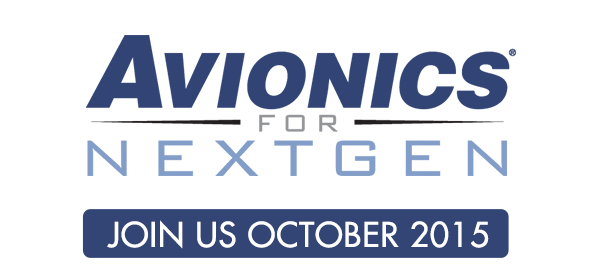 Now that the FAA is completing the foundational aspects of NextGen, the agency is working with the aviation industry to deploy more immediate benefits and capabilities produced by Air Traffic Management modernization for commercial and charter airlines and the flying public.
Avionics for NextGen 2015 will bring together key industry stakeholders, including airlines, pilots, air traffic controllers and avionics manufacturers, to discuss their experiences, challenges and solutions with the implementation of these new technologies.

Conference Program
Avionics for NextGen brings together hundreds of professionals from the aviation community to discuss the mandate from a technology standpoint. The conference will address equipment requirements, provide insight and updates on technologies in the field, and explore solutions to challenges that arise with the implementation of NextGen technology.
Tuesday, September 17
7:00 a.m. - 8:00 a.m.
Continental Breakfast & Table Top Exhibits Open
Start your networking experience and enjoy a wonderful coffee break and breakfast with experts, thought leaders, and fellow colleagues in the aviation community.
8:00 a.m. - 8:15 a.m.
Opening Remarks
Congressman Frank LoBiondo, New Jersey's Second District, U.S. House of Representatives
8:15 a.m. - 9:00 a.m.
Keynote Address
Dennis Filler, Director, FAA William J. Hughes Technical Center
FAA William J. Hughes Technical Center: Pioneering the Future of NextGen
The William J. Hughes Technical Center is one of FAA's national scientific test bases for research and development and test and evaluation for the Next Generation Air Transportation System. The Atlantic City, N.J., facility sets the bar for innovation and technology in the modernization of the airspace. To kick off the Conference, Tech Center Director Dennis Filler will share the latest in the technological advances and research coming out of the Tech Center as well as future research plans as full NextGen implementation nears.
9:00 a.m. - 10:00 a.m.
Airline Roundtable: An Operational View of NextGen
Airlines stand to gain a great deal of operational and financial benefits from NextGen. However, achieving those benefits requires a great deal of investment in new equipment and training. With the 2020 ADS-B mandate looming in the United States, and 2017 in Europe, how are airlines preparing? And ahead of the mandate, how does NextGen look from the cockpit of airliners?
Moderator:
Emily Feliz, Editor-in-Chief, Avionics Magazine

Speakers:

Capt. Bill Allen, Director of Operations, JetBlue Airways
Chip Beall, Technical Pilot, Delta Airlines
Daniel O'Donnell, Director of Flight Operations Technology, United Airlines
Capt. Brian Will, Director of Airspace Modernization and Advanced Technologies, American Airlines
10:00 a.m. - 11:00 a.m.
Networking Break & Table Top Exhibits Open
Take a break from the sessions to network with fellow attendees and visit with market leading companies in the Table Top Exhibits.
11:00 a.m. - 12:00 p.m.
NextGen for General Aviation: What Equipage Looks like for the Private Operator
There are more than 150,000 private aircraft operators in this country, and they will all have to equip their aircraft with NextGen-capable avionics if they wish to continue operating in the National Airspace System past 2020. Equipping business and general aviation aircraft come with their own set of concerns, including costs, airspace access, installation and others.
Moderator:
Heidi Williams, Vice President of Air Traffic Services and Modernization, Aircraft Owners and Pilots Association (AOPA)
Speakers:

Michael Dyment, Founder and Managing Partner, NEXA Capital Partners
Dean Ryan, General Manager and Director of Engineering, Safety Systems Group, Avidyne Corporation
Craig Peterson, Director of Flight Control Marketing, Rockwell Collins Commercial Systems
John Uczekaj, President and CEO, Aspen Avionics
12:00 p.m. - 1:00 p.m.
Luncheon
Sponsored By:

Remarks: Lorenzo Langford, Atlantic City Mayor
Enjoy a hot meal where exhibitors and attendees can mix and mingle with colleagues and business associates in a relaxed and informal atmosphere.
1:00 p.m. - 1:30 p.m.
Networking Break & Table Top Exhibits Open
Mix and mingle with fellow attendees during this networking break and visit the Table Top Exhibits to make connections with market leading companies.
1:30 p.m. - 2:30 p.m.
NextGen Now: An Update of Technologies in the Field
For many in the National Airspace System, NextGen is already happening. Airports, airlines, air traffic controllers and others around the country are trialing components of the system that will make up the future of air transportation technologies. Stakeholders will provide an update on many of these foundational programs and will give some insight on what the future holds.
Moderator:

Paul McGraw, Vice President of Operations & Safety, Airlines for America Association (A4A)

Speakers:

Capt. Joe Burns, Managing Director, Technology and Flight Test, United Airlines
Melvin Davis, Air Traffic Controller, Department of Transportation (DOT)/FAA and CPC National NextGen Representative, National Air Traffic Controllers Association (NATCA)
Bruce DeCleene, Manager, Avionics Systems Branch, FAA
John Kefaliotis, Vice President of NextGen Air Transportation System, Exelis
Christopher Sutherland, Senior Program Manager, Harris Corporation
2:30 p.m. - 3:00 p.m.
Networking Break/Table-Top Exhibits Open
Take a quick break to recharge and refuel with refreshments in the afternoon networking break.

3:00 p.m. - 4:00 p.m.
NextGen Around the World: The State of Global Harmonization Efforts
Air-traffic modernization efforts are progressing around the world, notably in Europe with its SESAR initiative. And with aircraft crisscrossing the globe at increasing rates, it's imperative that these initiatives continue in parallel. What is the latest status of modernization efforts in Europe? What is the status of the discussions between European regulators and their American counterparts?
Moderator:

Gerald Dillingham, Director of Civil Aviation Issues, U.S. Government Accountability Office

Speakers:

Peter Green, Head of European Sky Unit, Eurocontrol
Rudy Kellar, Executive Vice President, Service Delivery, NAV CANADA
Tony Lo Brutto, Vice President of Air Traffic Management U.S., Thales
4:00 p.m. - 5:00 p.m.
The 'Equipage Cliff': What Does 2020 Look Like?
Some airline and business aviation fleets have already started procuring and installing the NextGen-enabled systems. But how are avionics manufacturers, equipment installers and maintainers and operators preparing for the 2020 ADS-B mandate? Will there be a sufficient numbers of certified installers, and will FAA be able to handle anticipated and significant requests from manufacturers for box certification? Will all the aircraft be equipped in time?
Moderator:

Ric Peri, Vice President, Government and Industry Affairs, Aircraft Electronics Association

Speakers:

Mike Glover, Director of Commercial Air Transport & Business/General Aviation, Atlanta Region, Innovative Solutions and Support
Scott Miller, TCAS/XPDR/ELT Director, Honeywell Aerospace
Jim Bowers, Business Development Manager, ACSS
Justin Vena, Avionics Installation Representative, Duncan Aviation
5:00 p.m. - 7:00 p.m.
Evening Reception
Review the days events while enjoying complimentary drinks and hors d'oeuvres with friends and colleagues.