[Avionics Magazine 11-23-2016] The United States National Transportation Safety Board (NTSB) has released its 2017-2018 "Most Wanted List," which includes several aviation-related safety improvements. The following aviation safety related items were included.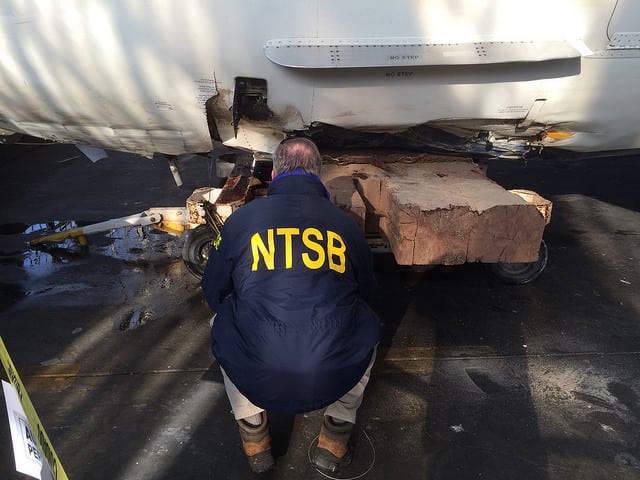 An NTSB investigator evaluating a damaged aircraft. Photo: NTSB.
1. Reduce Fatigue Related Accidents
According to NTSB, nearly 20 percent of all major NTSB investigations completed between 2001 and 2012 identified fatigue as a probable cause, contributing factor or finding. The agency is pushing for more acknowledgement within the aviation industry that fatigue is a manageable threat, and it also wants more attention paid to medical conditions that affect sleep quality such as Obstructive Sleep Apnea (OSA). 
Within its recommendations for combating fatigue in aviation, NTSB noted that in March 2015, the FAA launched a major medical initiative to enhance identification and encourage treatment of aviators who have OSA. OSA screening is now mandatory for all pilots presenting for their medical examinations, and closely follows the American Academy of Sleep Medicine's clinical guidelines. In 2015, 979 airmen at high risk for OSA were referred for comprehensive evaluation that would have likely gone unrecognized prior to initiation of the screening program. 
"The best countermeasures to combat fatigue depend on the task at hand, work–rest schedules, and sleep opportunities. Data on the habits of workers in different transportation modes, along with the results of existing fatigue management programs and research into possible alternatives, will allow for a better analysis to determine the best fatigue countermeasures to employ in every situation," NTSB states in its latest most wanted list.
2. Increase Occupant Protection Technology
NTSB notes that investigation into fixed and rotary wing accidents in recent years have lead to the conclusion that "inadequate evacuation procedures have placed crew and passengers at unnecessary risk following an accident."
To minimize deaths and injuries resulting from accidents, NTSB is seeking increased use of existing restraint systems, as well as better design and implementation of occupant protection systems that preserve survivable space and ensure ease of evacuation. 
3. Expanded Flight Data Recorder Use
NTSB is urging aircraft owners and operators to install crash-resistant flight data, audio/voice, and image recorders, if not already required on their specific aircraft type. The recommendation for image recorders has been included in every NTSB "Most Wanted" list since the year 2000. 
"We have recommended image recorders for more than 16 years. Although there may be technical solutions other than image recorders that can capture instrument readings displayed to the flight crew, those solutions do not also capture crew actions," NTSB said. 
NTSB is also recommending that the FAA encourage voluntary implementation
of an alternative data recovery method for those aircraft capable of such technology.
4. Prevent Loss of Control in General Aviation 
Nearly half of all general aviation accidents are caused by loss of control in flight. To prevent unintended departures from flight and better manage stalls, pilots need more training and a better awareness of the technologies that can help prevent these tragedies.
NTSB data from 2008 through 2014 confirm that loss of control continues to be the biggest killer in general aviation. Better training on how to eliminate distraction, avoid stalls, and manage weather issues will put pilots back in control and give them better command of their outcomes.
5. Eliminating Distractions
The increasing prevalence of PEDs has only expanded the potential ways a pilot can be distracted; however, the consequence remains the same — a loss of situational awareness with potentially catastrophic consequences. For example, in 2014, the NTSB investigated a general aviation accident in which the pilot was distracted by updating a Facebook post. In 2011, a helicopter air ambulance pilot's attention was distracted by texting, which contributed to a fatal fuel exhaustion crash. In 2009, Northwest Airlines (NWA) flight 188 failed to communicate with air traffic control for approximately 1 hour 17 minutes and flew past its landing point by 100 miles.  
NTSB is primarily urging the FAA to extend its 2014 rule on the prohibition of personal use of electronic devices on the flight deck to flight operations conducted under Parts 135 and 91. 
6. Ensure the Safe Shipment of Hazardous Materials
NTSB's primary aviation-related safety improvement focuses on the shipment of hazardous materials is centered on the proliferation of lithium ion batteries featured in personal electronic devices. The FAA has already taken steps to address this risk in recent years, and NTSB is issuing safety recommendations calling for further regulatory and other changes with respect to lithium ion batteries on passenger and pilot devices.