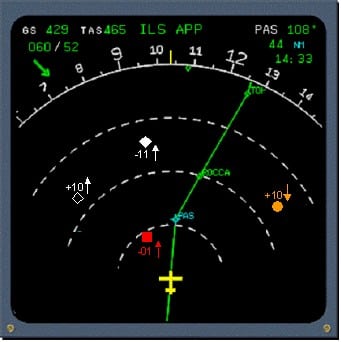 TCAS cockpit display. Photo: FlySafe Project
[Avionics Today 09-03-2015] Due to military activities, the Traffic Collision and Avoidance System (TCAS) and Automatic Dependent Surveillance-Broadcast (ADS-B) surveillance may be unreliable in the airspace over certain parts of the Southeast U.S. during the month of September. According to a statement released by the National Business Aviation Association (NBAA), a late notice Department of Defense (DOD) exercise may disrupt airspace over Virginia, North Carolina, South Carolina, Georgia, and Florida, and extend approximately 200 nautical miles offshore, from 1 a.m. EDT Sept. 2 until midnight EDT on Oct. 1.
Pilots are advised that the traffic alert and TCAS may fail to establish tracks on nearby aircraft and may fail to receive Traffic Alerts (TA) or Resolution Advisories (RA). Operators should be aware that tracks may first appear within close proximity to their aircraft, and may immediately go into TA/RA status.
Pilots are advised to maintain an increased visual awareness in this area. If operators believe that an aircraft should have triggered an alert, the incident should be reported to air traffic control as soon as possible.